Grandmaster Mel Lopez

Grandmaster Mel Lopez [1940 – 2022]
The late founder of the Villabrille-Largusa Kali System, Grandmaster Floro Villabrille, established that there could only be one living grandmaster and one living tuhan (master) in the Villabrille-Largusa Kali System at any one time. Upon the death of the current grandmaster, the current tuhan of the Villabrille-Largusa Kali System succeeds him. On August 14, 1994, that succession continued when the new standing Grandmaster, Ben Largusa, named Professor Mel Lopez, Tuhan and director of the Villabrille-Largusa Kali System. As Grandmaster Largusa's personally chosen successor, Tuhan Lopez has dedicated his life to the perpetuation of the Villabrille-Largusa Kali System.
Prior to Grandmaster Largusa's passing, he reaffirmed his wishes that Tuhan Lopez succeed him as grandmaster and to not have any lapse in the leadership of the system. On October 3, 2010, upon Grandmaster Largusa's death, Tuhan Lopez became the third Grandmaster of the Villabrille – Largusa Kali System. To complete the succession plan, Grandmaster Lopez' personally chosen successor, Professor Jaime Berdal was named Tuhan (Master).
Born in 1940, in Wahiawa, Hawaii, Grandmaster Mel Lopez began his martial arts training at age 14, training in Kajukenbo, under Grandmaster Emperado and at that time, assistant instructor Tony Ramos in Wahiawa. He then studied Shiki-Shin Funi Karate under Sensei Greg Lontayao, where he earned his black belt. In 1970 he found his true calling when he began his training under Grandmaster Ben Largusa at the Largusa School of Kali in South San Francisco, California. Grandmaster Lopez recalls, "After my very first training session under Grandmaster Largusa, holding my rattan garote, I knew I had found my truth, my Kamatuuran." After that first session, he realized that for him to excel in the Villabrille-Largusa Kali System he had to master the system and that he could not serve two different martial arts at the same time. As he puts it, "I never wore my karate black belt again and have never looked back."
He was among the first generation students that had the good fortune to train directly under Grandmaster Largusa. Grandmaster Lopez took full advantage of Grandmaster Largusa's offer to his students to "pick his brain" and had many one on one training sessions with him. To this very day he always says, "I am continually learning, the process never stops. What I have learned and have knowledge of, I pass on to the Guro's and students of the Villabrille-Largusa Kali System, so that they can pass it on to their students."
Grandmaster Lopez was instrumental in standardizing the many basic fundamentals that Grandmaster Ben Largusa had developed for the Villabrille-Largusa Kali System over the years.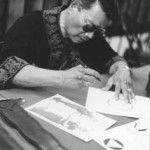 These basic fundamentals, now known as "The Sixteen Basic Fundamentals", serve as the defining identity of the Villabrille-Largusa Kali System. He was also instrumental in formulating the Kali Association of America Review Board, now being used to objectively evaluate Kali student candidates for Guro Certification. The sayaus (sets/katas) that he developed for his school are now the standard sets taught by all of the schools in the Villabrille-Largusa Kali System. His main focus throughout the years of training in Kali was to never change the fighting techniques taught to him by Grandmaster Largusa and to never "water down" the art.
Married to the late Nita Lopez for 29 years, Grandmaster Lopez was always at her side during her long fight with cancer. He credits her for his accomplishments in life and in the Villabrille-Largusa Kali System. He explains, "Without Nita's support, I would have never been able to dedicate the time I needed for Kali to achieve the goals I set."
Grandmaster Lopez passed away on March 10, 2022, joining his beloved wife Nita in eternal rest. He will be remembered for his loyalty to Grandmasters Villabrille and Largusa, dedication to Kali and for passing on this treasured art to countless students. Most of all, he will be remembered as a good friend.