Tuhan Willie Berdal
Born in the Philippines and raised in Fremont, California, Tuhan William (Willie) Berdal was a typical kid growing up. His days were spent playing baseball and football in the parks with neighborhood kids and basketball on a local CYO team. He often watched Bruce Lee movies and Kung Fu Theater which aired late night on local TV. This interest in martial arts led him to a Kajukenbo school located in an abandoned barn in the south end of the city. He would train there for a few years alongside his brother James Berdal.
In the fall of 1980, his father took him to a Filipino martial arts demonstration in Pacifica, California put on by Villabrille – Largusa Kali schools from Union City (where his brother James was already training) and Pacifica to celebrate the grand opening of the Pacifica school. Shortly after, he would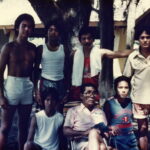 begin training at the Kali Martial Arts Academy in Union City, once again joining his brother James. Led by then Guros Mel Lopez and Jerry Pongasi, Sr., the Kali Martial Arts Academy would promote the art throughout the 1980s and 1990s, holding demonstrations though out California, Hawaii, Washington, Kentucky and Indiana.
In 1984, Tuhan Berdal went before the Kali Association of America (KAA) instructor review board comprised of then Guros Ron Hellman, Mario Magdangal and Allan Magdangal. Upon successfully passing, he was awarded the rank of Panabang na Guro (assistant instructor). In 1986 he was promoted to the rank of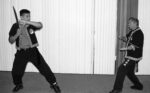 Guro Lakang Osa (instructor 1st step). Tuhan Berdal helped teach Grandmaster Lopez' classes and always stressed the importance of repetition, "When it comes to technique, work on it over and over until the technique becomes you". After several years, he was given the authorization to teach the Villabrille-Largusa Kali system under the guidelines of the KAA and in 2003 he was promoted to the rank of professor.
In 2001, life would take Tuhan Berdal, his wife Mary and their family to Antioch, California and in 2005 Dayton, Nevada. In 2010 they moved back to the bay area and soon after, he began teaching a select group of students.
Tuhan Willie Berdal appreciates the lessons handed down from the late, great Grandmasters Villabrille, Largusa, and Lopez and is honored to serve as the master of the Villabrille – Largusa Kali System. Along with Grandmaster James Berdal, he "will continue passing onto others the physical, mental and spiritual aspects of this art given to me".